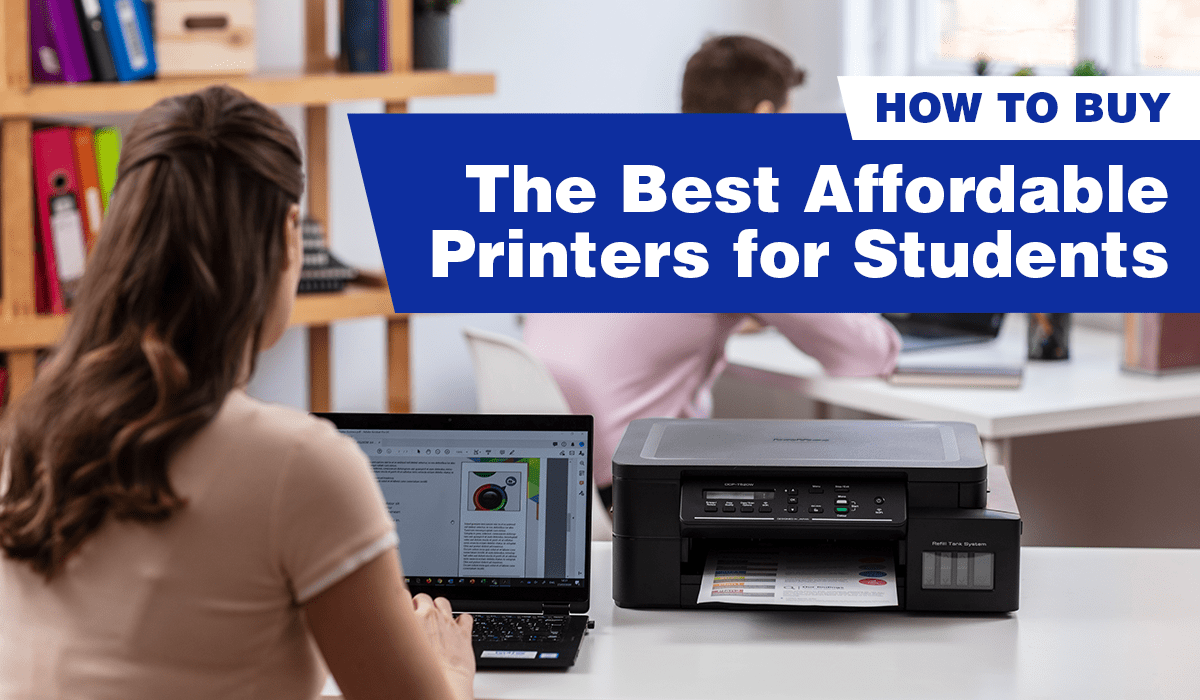 Are you a student who needs an affordable printer for your printing needs?

Tired of paying for expensive prints every time a school project is due?
Having to wait in the long queue at the school's printing shop during submission deadlines?
Perhaps you are a parent who grimaces at the struggle of your children, and wishes to make their lives easier.
Students (and parents) rejoice! In this article, you will learn how you can save money on printing by investing in the right affordable home printers perfectly suited for your needs.
Why Do Students Need Affordable Printers
But first, let us address the elephant in the room — do children, teenagers and youths need printers?
The short answer is a resounding yes! Here are four reasons why students need low-priced printers at home.
Printing of School Projects and Assignments
With project-based learning and school projects being the norm these days, students need to print reports, essays, photos, and other assignments.
These may sometimes include colour printouts of charts and graphs, or captioned photos depicting different locations that they've been. It is also common for students to print out lesson plans and notes from their teachers.
Tertiary level students in universities may also need a printer to proof-read long essays or churn out copies of their research reports.
Printing of Personal Fun Projects
Beyond school projects, having an affordable printer also allows your child to stretch her imagination with fun personal projects.
She could design and print out a photo book documenting your last family vacation. Create a sign-board just for her room. Or write a fictitious story involving space aliens and cowboys!
A home printer also allows you to print out family photos — a perfect way to decorate your home during these times.
Expensive Shop Printing Costs
Beyond the above reasons, printing can also be increasingly more expensive at print shops with rising labour and rental costs.
While professional printers may be suited for large volume commercial prints, small-scale printing costs for home users are likely to be high. This is especially so for high resolution colour printouts for images such as photos, posters, or other illustrations.
Inconvenience of Printing in School or at a Shop
Faced with mounting pressures at school, students who need urgent print-outs of their assignments may find it frustrating to look for an available print shop.
Often, queues at such printing shops may form — especially close to project deadlines!
Besides battling other students to get your job printed first, you may also have to contend with occasions where the shop closes, like weekends, public holidays, or non-retail hours.
What To Look For in an Affordable Student Printer
Getting an affordable printer will help you to solve your student printing woes. You won't need to go to a library or an internet cafe to print out your work, or rip your hair out when your regular print shop closes.
Before you run out to get any affordable printers you can find, consider these factors when you choose a printer that is best suited for a student.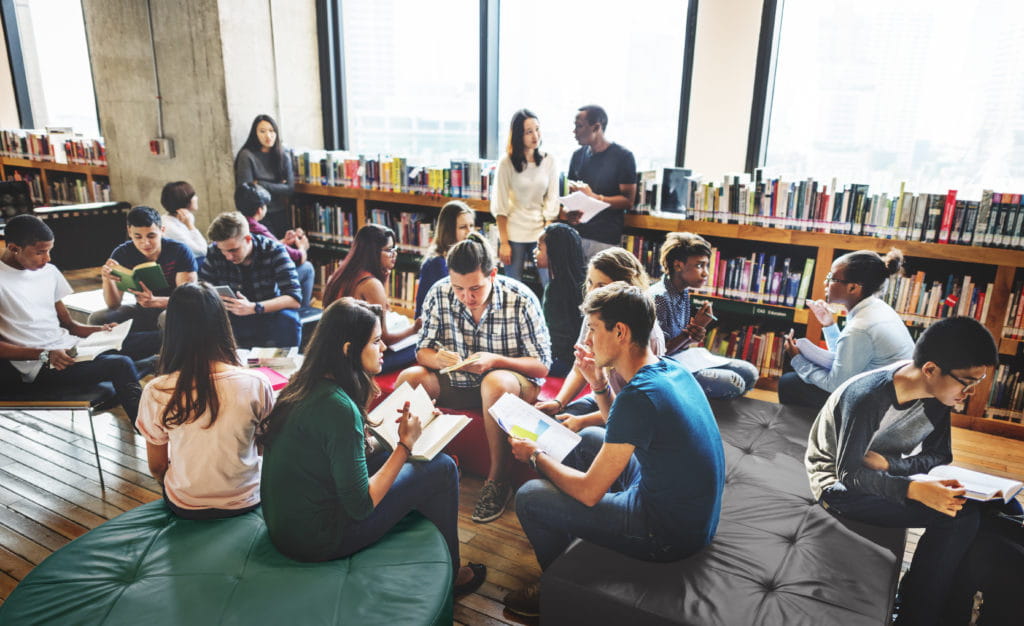 Print Quality of Printer
Low cost shouldn't equate with low quality. While searching for the best economically-priced printer, you'll need to ensure that your printer doesn't skimp on print quality.
Check that your value-for-money printer can print out various documents with perfect clarity. It would be such a shame if your hard work came out with a bunch of blurs, lines and smudges!
Space Needed for Printer
Next, consider the space you have for your printer. You wouldn't want a printer that takes up too much space, given the constraints of your room.
Try to find one that is compact yet packed with the features that you need for your school and personal printing needs.
Cost of Printer — Think Long-Term Costs
Lastly, you'll need to consider the price of the printer itself, as well as its running costs.
Often, students and their parents opt for the cheapest printer available in the market without considering the ongoing cost of its consumables. Such costs may add up — especially when the volume of school work that needs to be printed goes up.
There are four running cost components that you should consider:
Printer Ink or Toner Cost
Printer Paper Cost
Printer Electricity Consumption
Printer Maintenance or Repair Cost
Printer Ink or Toner Price
The printer ink or toner is one of the biggest running costs when it comes to owning a printer. You wouldn't want to get a cheap printer that has a huge cost for its ink or toner.
You may want to consider if the majority of your print jobs are to be in black and white or colored. This will help to determine your budget for the cartridges — yes, colour cartridges are more expensive.
Do also be careful of using third party ink or toners — those may not be suitable for your machine and may damage it in the long-term.
It is wise to find a balance between your cost-per-page and the upfront printer cost.
Once you have these costs figured out, it would be easier to see if a printer will burn a hole in your pocket in the long term.
Pro Tip: If you're looking to get an inkjet printer, you should use it at least weekly to maximize its cartridge use. Idle printers can dry up cartridges or result in clogged print heads.
If you are not printing constantly, and have longer idle time in between prints, it is better to get a laser printer. While the upfront costs of Laser printers may be higher than inkjet printers, toner replacement wouldn't be as often. Besides, laser printer toners are dry powders which wouldn't dry up with time.
Printer Paper Price
The next cost to consider are your paper costs. There are different types of printing media and they all have different prices.
If you need to print art pieces on a certain print medium, its costs and compatibility may vary from printer to printer. Getting these special papers from the same printer brand ensures that your printouts will be of a premium quality — it also helps you to avoid printer jams and other mishaps.
If you are just printing regular documents, sticking to regular A4 plain paper shouldn't be much of a problem. A cost saving tip is to buy your printing paper in bulk or during a sale — it is much cheaper than buying them individually.
Printer Electricity Consumption
This next cost might seem negligible to some, but with any electrical appliances, the electricity consumption costs of your printer do add up over time.
Where possible, look for printers that have a deep sleep mode or energy saving functions. This might not seem like an important cost to consider in the beginning — however, in the long run, it will save you a considerable amount.
Printer Maintenance and Lifespan
What's the point of buying a printer which spoils the next year? Fixing it or buying a new one altogether can be both troublesome and costly.
To prevent this, ensure that you buy a reliable printer with a good warranty. Often, this is a good sign that its maintenance costs will be manageable.
Do also look out for printers from established trustworthy brands that provide reliable customer service. This can help you to reduce your printer maintenance costs, and minimise the need for you to replace your student friendly printer every few years.
Where To Buy The Best Printers for Students
If you are looking to buy the best affordable printer for students, here are a few printers from Brother that can meet a student's needs for affordability, high print quality, low consumables prices, and compact in size.
1. Brother Laser Printer For Students
Monochrome Laser printer:
Print, Scan & Copy
Monochrome Laser Printer
Automatic 2-sided Printing
Wireless Networking
Print Quality: Up to 600 x 600 dpi, HQ1200 (Up to 2400 x 600 dpi), Up to 1200 x 1200 dpi
Size: 410 mm x 398.5 mm x 318.5 mm
Colour Laser Printer:
Print, Scan & Copy
Color LED Printer
Auto 2-sided printing
Wireless & Network Connectivity
Print Quality: Up to 600 x 600 dpi, 2,400 dpi (600 x 2400)
Size: 410 mm x 475 mm x 414 mm
Print, Scan, Copy & Fax
Color LED Printer
Auto 2-sided printing & scanning
Wireless, Network Connectivity & NFC
Print Quality: Up to 600 x 600 dpi, 2,400 dpi (600 x 2400)
Size: 410 mm x 509 mm x 414 mm
2. Brother Inkjet Printer For Students
Colour Inkjet Printer:
Print, Scan & Copy
Inkjet Printer
Wireless and mobile printing
Print Quality:

Windows: Up to 1,200 x 6,000 dpi

Mac: Up to 1,200 x 3,600 dpi

Size: 435 mm x 380 mm x 159 mm
Now go find your perfect printer and skip the nuances!