Looking for a Nifty Photo Printer? We've Got You Covered
Picture this — You've taken tons of photos of your kids, your family home, and even your two cats. You've shared them on social media, and occasionally, get to relive those special moments as you scroll through the memories that your smartphone throws up.
Wouldn't it be nice to hold physical prints of those precious photos in your hand? Or to frame your priceless captures to be hung on that empty wall in the hallway?
In today's Internet, smartphone and wireless-powered age, making physical photo prints can be as easy as snapping your fingers. You can send photos directly to your home printer (no computer or wires needed), or better still, print photos on a portable printer with a few taps on your phone.
Thinking about investing in a portable photo printer? Photo printers in Singapore come in all shapes, sizes, and specifications. How do you buy the right photo printer for your home or office? What kind of inks do you need to consider? More importantly, what features should you consider?
In this article, you'll learn all about the different types of photo-friendly portable printers, how to choose a portable printer, as well as the range of printers small and lightweight enough to be easily transported yet robust enough to handle your everyday printing needs.
Types of Portable Printers
Portable printers come in three main flavours:
Inkjet Printers: These are the most common portable printers, and are commonly used for home printing of photos and other image-based documents.
Dye-sublimation Printers: While dye-sublimation printers in commercial settings tend to be larger in footprint, there are a few such printers designed for portability and accurate photography reproduction.
Pocket Photo Printers: These are specifically made for printing photographs, and are often carried around for events like weddings, parties and other occasions where "instant" photos are needed.
If you need to print out documents as well as photos, an inkjet printer is likely to be your best bet.
Dye-sublimation printers, on the other hand, are more specialised printers. Used to produce high-quality photo prints, they are ideal for professional photographers. The downside is that such printers are expensive and are not suitable for printing text documents.
Meanwhile, pocket photo printers are more suited for once-off uses — such printers are unable to handle a large variety of printing jobs.
Now size can be misleading — you might think that the smaller the printer, the cheaper it is. This simply isn't the case. On the contrary, portable printers that have an extremely small footprint may cost more than larger multi-purpose printers.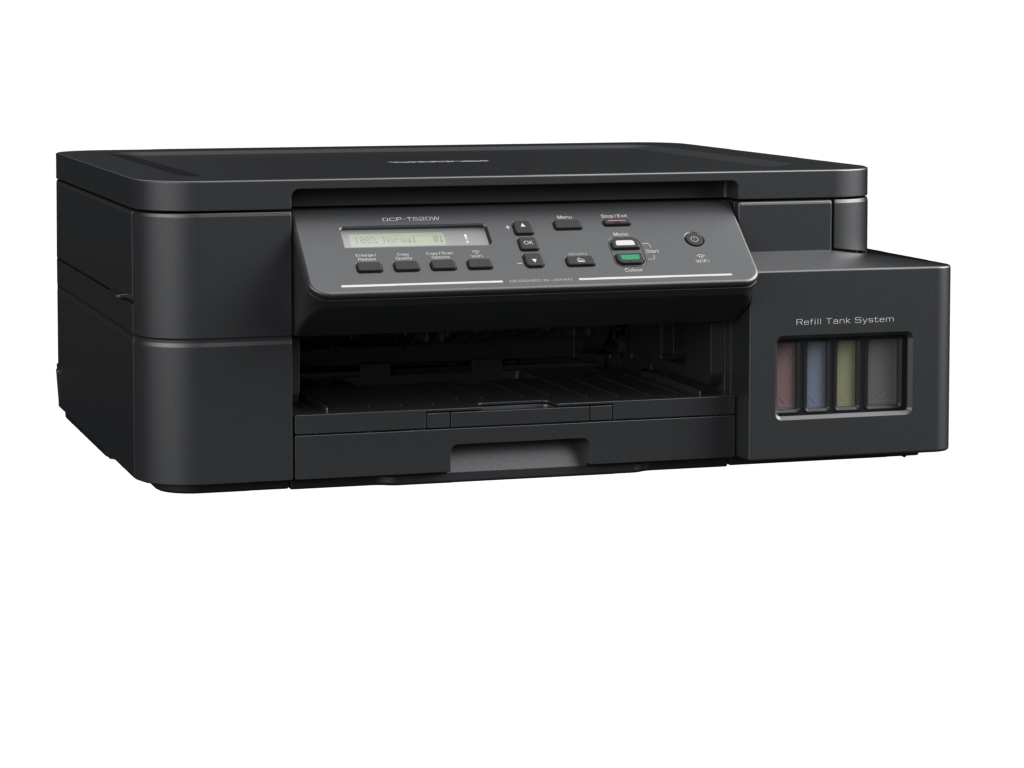 Brother DCP-T520W is one of Brother's most popular ink tank printers, suited for printing high-quality and long-lasting photos, while also capable of handling document printing jobs.
This refillable ink tank printer features a transparent cover that allows for easy front access to the embedded ink tank, and handles a variety of print jobs speedily and efficiently. With a document print speed of up to 17/9.5 inch per min (ipm), this nifty printers will empower you to print more in less time. It also works with Brother's Ultra High Yield Ink bottles, which roughly translates to 7,500 pages in black and 5,000 pages in colour!
Considering a pocket photo printer?
The Kodak Photo Printer Mini is a pocket-sized printer that can print wallet-sized photos from iOS or Android devices.
At just 0.9 by 3 by 6 inches, the Mini's star quality is definitely its portability. You can easily slip it into a handbag or even a large pocket, making it a useful companion for parties or events where you want to snap photos and give out to friends.
How Does Portable Printing Work?
Most portable printers in the market today come with Wi-Fi and Bluetooth technology to enable seamless communication with your laptop, smartphone or tablet.
Some of these are also battery-powered, which allows for even more freedom in printing documents, photos and other materials when you are on-the-go.
In short, portable mobile printing no longer requires you to lug heavy printer cables to connect from your device to a printer. What a relief!
What To Look Out For in a Portable Printer
In this section, you will learn all about the key features and functionalities of portable printers, as well as what you should consider prior to buying a portable photo printer.
Size/Portability of Portable Printers
Portability is one of the biggest decision-making factors when choosing a portable printer. While they may be easier to carry, smaller printers usually result in a trade-off in print quality. Hence, you have to balance the need for easy transportation with your ideal print quality output.
While small pocket-sized printer options do exist, you will experience some limitations in your print sizes. In the long run, you may get more bang for your buck by investing in a compact desk printer that can handle document printing while printing consistently high-quality photos.
Print Resolution of Portable Printers
Most photo printers — be they inkjets, sublimation-dye, or pocket-sized — offer good resolution, providing better-quality prints relative to traditional printers. A photo printer with a resolution of 1,200 x 3,600 dpi or even higher would suffice for crisp-looking photos and images.
Inkless vs. Ink Cartridges
Another important consideration is the type of cartridges or ink used.
Today, most printers use Zero Ink (or Zink for short), which involves embedded dyes in the photo paper itself. Zink saves money in the long-run but has trade-offs in print resolution or the ability to reproduce a rich black colour.
A traditional inkjet printer, on the other hand, shoots microscopic dots of ink to produce an image or a printed page. Only the necessary ink for the image is used, and the remaining ink in the cartridge can be used for subsequent prints.
For Brother printers that work with ultra high-yield ink bottles, you can enjoy printing up to 7,500 pages in black and 5,000 pages in colour on a single round of cartridges!
A dye sublimation printer works by heating a special ribbon containing solid inks. The ink sublimates (becomes a gas without liquefying first), laying down varying amounts of the three primary colours onto the paper. The gas then solidifies on the page, resulting in full-colour images.
The dye sublimation process tends to result in lower efficiency in terms of ink: the printer transfers only a portion of the ribbon's colour panels onto the page. The ink that remains on the panel cannot be reused.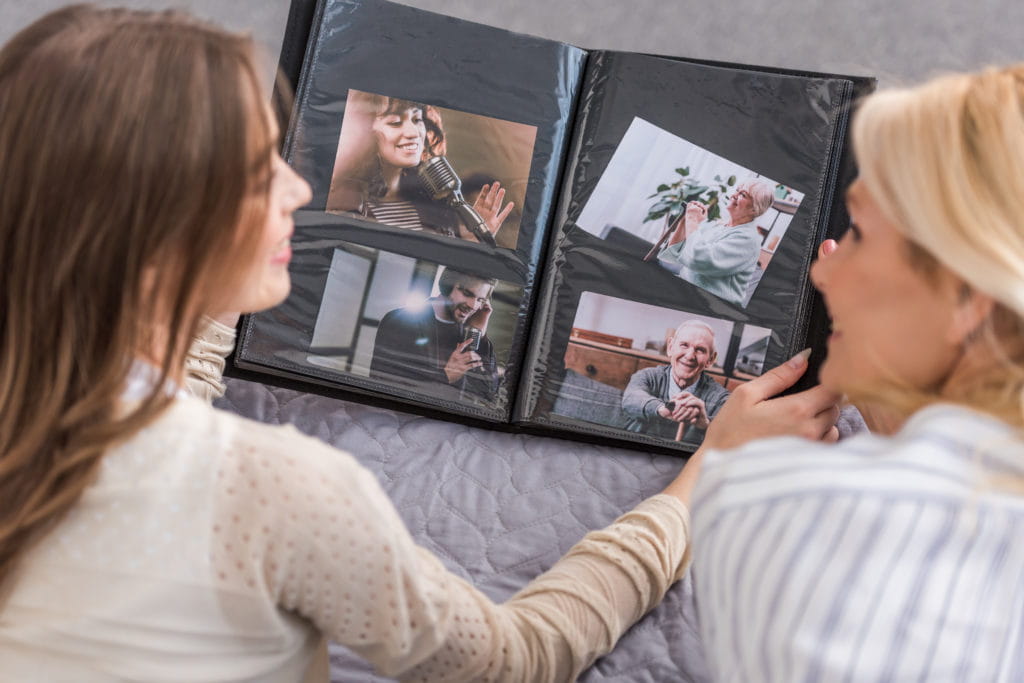 Paper used in Portable Printing
Inkjet printers work with copier paper, envelopes, labels and other forms of office media. They offer greater flexibility as inkjet printers can accommodate specialty paper with matte or glossy finishes for photo printing.
Dye sublimation printers, on the other hand, require specially-coated paper. Beyond postcards and photo prints, dye sublimation printers can also be used to print novelty items such as T-shirts and tote bags. All these are fine and dandy at the beginning but your printing costs can chalk up quite easily.
Print Speed of Portable Printers
If you require high-volume printing, look out for print speeds shorter than 10-15 seconds per print when you choose your portable printer.
The longer the print time, the slower your workflow will be.
Wireless or Mobile Connectivity
There are several ways to connect to a printer. Some printers offer direct connections to your computer, laptop or mobile device using a USB port, while also supporting Bluetooth or Wi-Fi.
Most printers will also support both Android and iOS devices. Remember to consider the devices you would be using with your portable printer, and double-check the compatibility before making a purchase.
Price of Portable Printers
How much do portable printers cost? Well, it varies. Most portable printers are priced between S$130-S$300. Do remember though that this price only covers the printer and the initial round of ink, and excludes the costs of consumables such as paper (or other media) and ink, as well as their power consumption.
Be sure to include the longer-term costs of these consumables in your budgetary considerations.
How to Print Photos From Your Phone
There are various ways to print photos directly from your smartphone.
Apple Airprint
For iPhone users, Apple Airprint is the easiest, most fuss-free way to print from your device to any wireless printer that is on the same wireless network. You do not even need to download and install additional software (drivers).
Here is a step-by-step guide:
Make sure your phone and your printer are on the same Wi-Fi network
Open the Photos or Gallery app
Select the photo you wish to print and tap the Share icon
Scroll down the options and select 'Print'
Tap on Select Printer
Select your printer from the list
Change the paper size, if necessary, specify the number of copies), and send your print job off!
Major printer makers—such as Brother, Canon, and HP—cover iOS devices and are compatible with AirPrint.
For Android users, you can utilise a range of wireless apps for direct printing from most printer vendors. There are also printing apps, such as Mopria Print, that you can download and use.
Brother iPrint&Scan
Whether you are team iOS or team Android, Brother's iPrint&Scan app allows you to print or scan effortlessly from your smartphone, tablet, or notebook – without the hassle of wires.
The app also comes with a range of advanced features such as document editing, faxing, and machine status updates.
iPrint&Scan is also compatible with AirPrint, Mopria, and Windows Mobile Print.
Conclusion
Now that you know how to choose a photo printer, and are acquainted with the key essentials that make a good portable photo printer, what will your choice be?
A pocket photo printer for fun and spontaneous moments or a practical desktop inkjet printer that can meet your other printing needs as well as churn out good quality photos before you can even say "Cheese"?
Let us know which you prefer!